Pin It Now!
Day 2 continued (part 2):

After riding Dinosaur, and giving one of our teens a near panic attack (she has been on this ride many times before, but this time got her more than usual).

We all love Dinosaur, and agree collectively that it is the best ride experience at Disney, however…we are all terrified of it.

Even the dads who try their best to hold it together on the ride to be strong and brave for the women folk, have had their moments on the ride.

Notably, each of them having had quite horrific looks on their faces at one time or another in the end of ride photo.

Us ladies have never had a terrified look in the photo, as it is hard to look terrified when you can't even be seen in the picture.

We are usually in the floor of the ride car.

I personally find the ride to be more enjoyable when wearing my sunglasses and baseball hat with my fingers firmly in my ears.

I confess, as with Expedition Everest, I have never seen most of the ride.

I have seen the first dino, the Pterodactyl, and the veggie-serous.

But I still love it.
Anyway, as I was saying…after we rode Dinosaur we made our way out to the buses at about 9:15 am.

This was great, we had knocked out all we wanted to do at the first park of the day and were heading off to the next, Disney's Hollywood Studios.

I snapped a few pics on the way out.
We had a good wait at the bus stop for the next one to come along for DHS, but we made the best of it and enjoyed some time to just be together and hang-out.

Some of our most fun and funny moments from past trips have occurred while we were either waiting in a bus line or ride queue.

Once the bus arrived we loaded up and were off.
We arrived at DHS just after 9:30 am.

The park had only just opened at 9am but it was more crowded than Animal Kingdom had been by quite a bit.

But DHS always seems crowded when entering, the crowds thinned out a bit as we moved on into the park.

After getting everyone in our party through the turnstiles we headed to the time board to check in on the wait time for Toy Story.

It was already a 40 minute wait with a pretty good return time for Fast Pass, and we knew it wouldn't get any better.

So we made the executive decision that we would rather take the time to be able to do Rockin' Roller Coaster and Tower of Terror several times rather than wait to ride TSM once.

So it was off to hit 'the big rides'.

We once again we sent the dads off to get Fast Passes, this time for RnR while the rest of us hopped in line for ToT.

The wait time for ToT read 30 minutes, so we headed into the queue.
This is my favorite ride.

From the theming right through to the ride itself, I just love every little detail.

Peter Pan is my all-time favorite as a classic Disney ride, and if they ever take it out I will probably finally feel what all those people felt who complained and complained

and wailed and griped and so on and so on (can you tell I was a little annoyed by it?) about them taking out Mr. Toad's Wild Ride.

But I do love ToT.

The dads made their way through the queue and found us after getting the Fast Passes.

We had just under a 30 minute wait, total time, queue, load and ride.

So we decided to hit it again.
The second time was a little longer, maybe 45-50 minutes total.

When we exited the ride we were all getting pretty hungry.

It was about 11:30 so we decided to grab some lunch.

One group wanted burgers and stuff so they stayed and waited for Rosie's All-American Café to open, which it did shortly.

My family wanted pretzel-dogs from Min and Bill's Dockside, so we headed over there.
There was no line, so we walked right up, placed our orders, got our food and found a seat that was well shaded right next to the water.

I love the pretzel-dog (I know it's called something else, but I like pretzel-dog).

Did you know you can opt out of the chips and Dijon mustard if you like?

The price without chips is only $5.

We each got one, I got the chips, and we added a large cola to share.

We had some bottled waters in our well stocked backpack.

We sat down and enjoyed a leisurely lunch.

The show in front of the big hat started just after we sat down, so we sang along and enjoyed listening to the music while we ate.
I snapped a few pics and then we made our way over to Starring Rolls where we had planned to meet up with the rest of our group.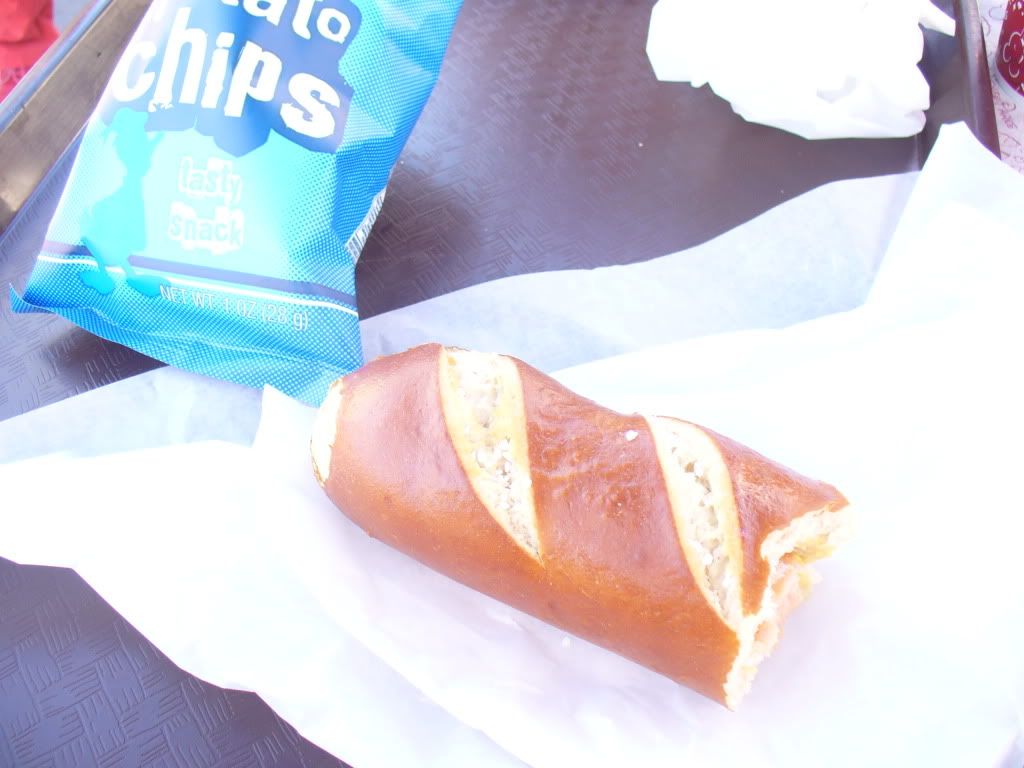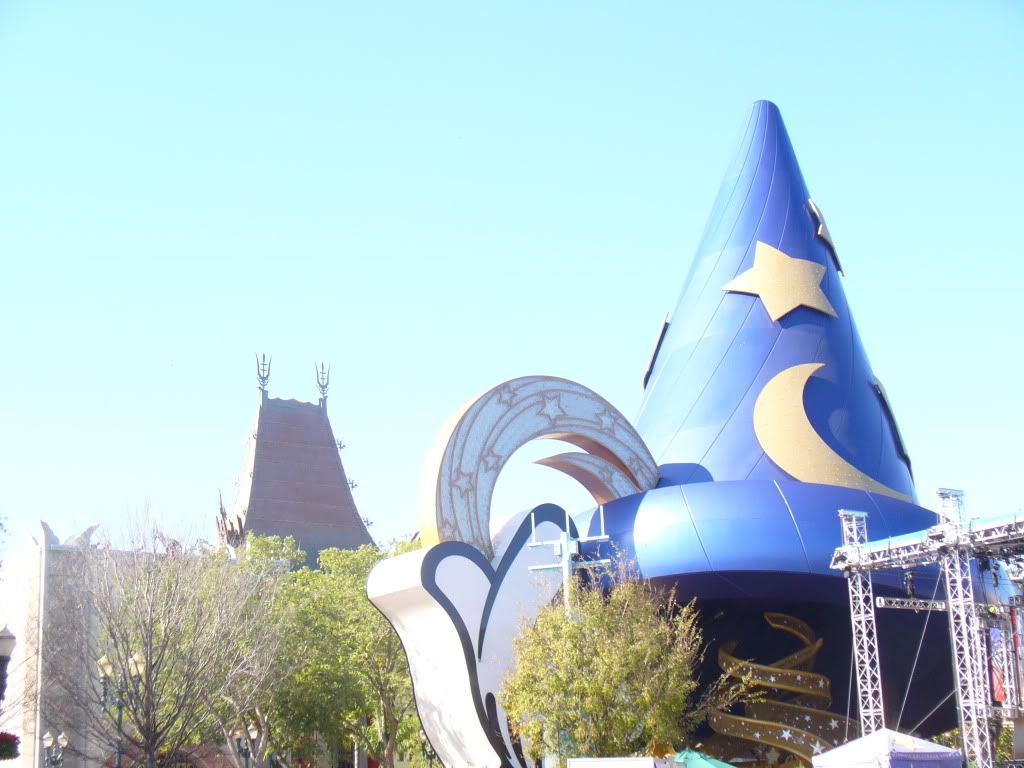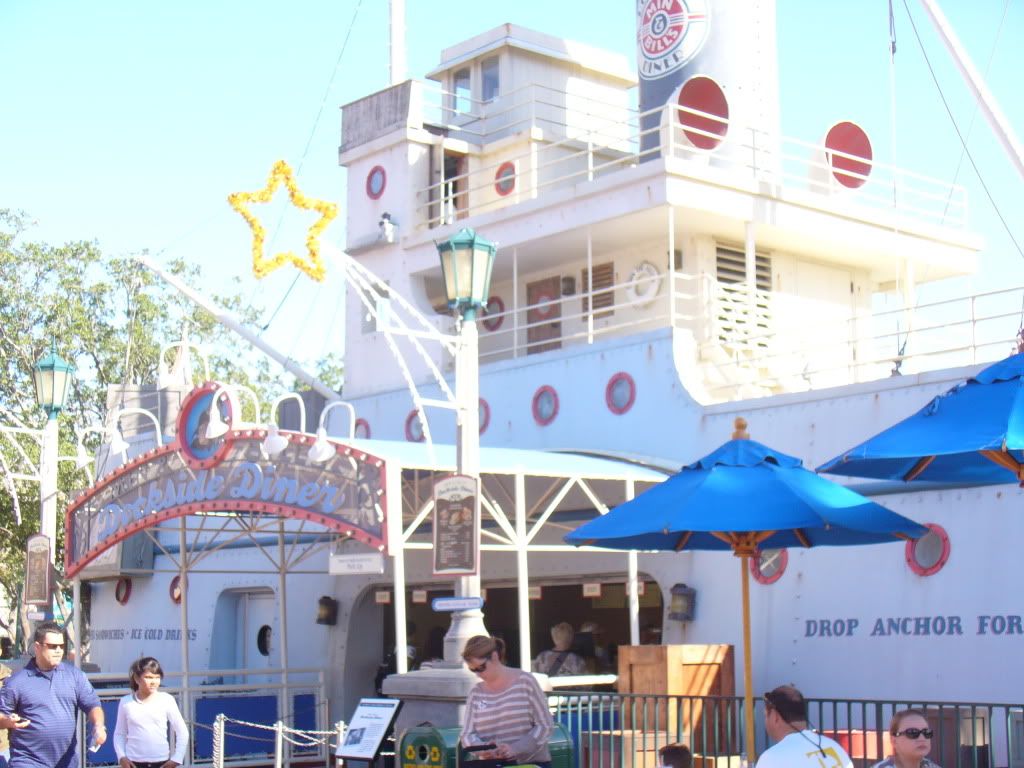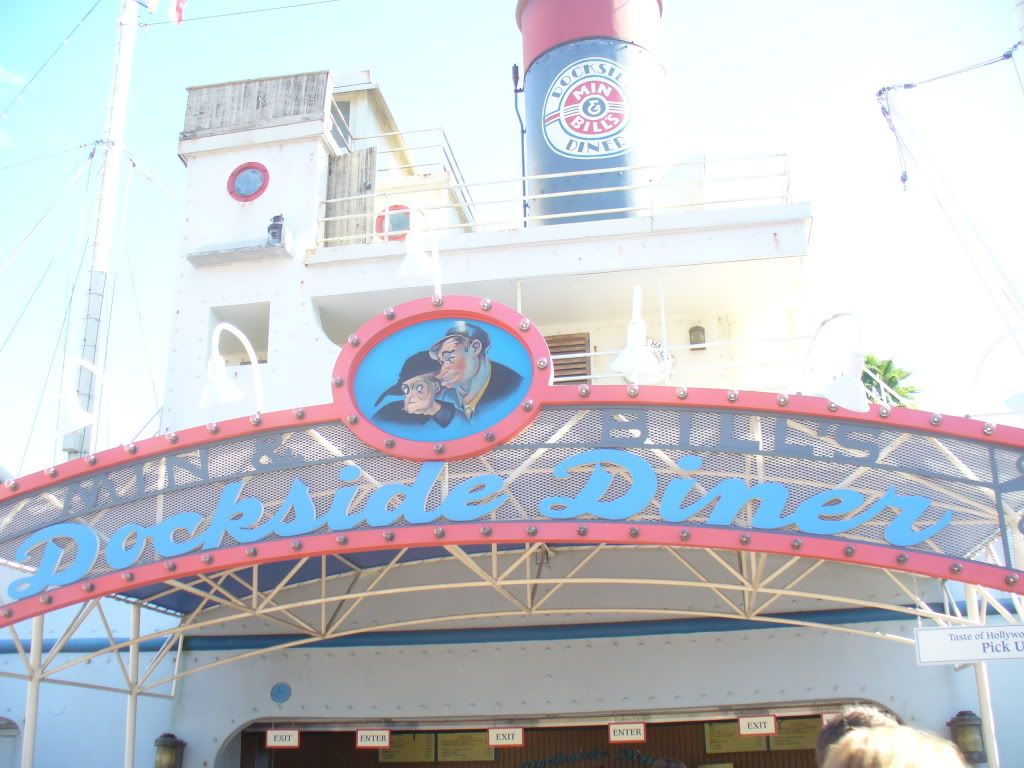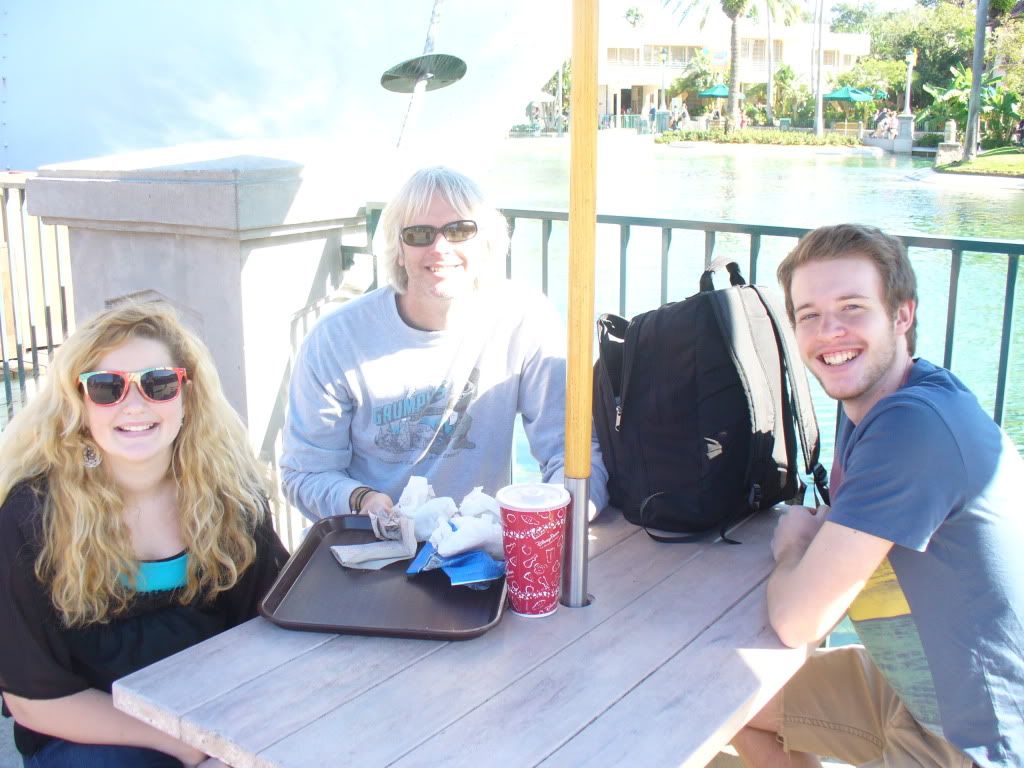 This was the first time I had seen a sign for the Taste of Hollywood To Go meals. Min and Bill's is a pick up spot for the meals, which are similar to but at the same time different from the Picnic in the Park meals at AK. There are more options and meals are individual instead of family style. They also come with a prefered seating section for Fantasmic.
Once they arrived we noted that we still had some time before our RnR FP return time of 1:30pm.

So we all made a beeline to our must do at DHS, The Animation Academy!

This is a great little hidden gem.

It is not well promoted and most people don't even know about it.

Though on this day you couldn't tell by the line.

Which we soon determined was due to mindless (non-planners, ugh) who just hop in any line other are in without any idea what it is for.

Most thought they were waiting to see Mickey Mouse…I mean come on people, a little planning can't hurt.

As the cast member attending the line would periodically come back to make sure everyone knew what the line was for, most of the people would leave the line.

They didn't know what they were missing out on.

Also, don't know if you know (probably do) but you don't have to do the Magic of Disney Animation tour and movie to do the Animation Academy.

You can just go right past the line and straight over to queue for AA.

This will save you time!

The AA sessions (I know that doesn't sound right, and for some of us we need a DA – Disney Anonymous) run every half-hour.

We got in line about 12:15pm, but due to the line we couldn't get our whole group in on the 12:30 session so we waited for the 1pm session.

This gave us a chance to sit a while and let our lunch settle.

At 1pm, we headed into the room where a Disney Animator shows you how to draw a Disney character.

Ours this time was Pluto!

We were excited.

In the past we have drawn Goofy, Piglet, and Donald Duck to name a few.

We always love to compare our drawings.

And this time we got a bonus.

At the end of each session the animator asks a question pertaining to the character you draw.

Whoever answers correctly wins his drawing autographed.

The question was, "What are the only words Pluto has ever spoken?"…answer "Kiss Me".

The lucky winner and smart guy was one of our Disney Dads, Dale.

It was kind of exciting for us all.
After a quick group shot with our drawings we made our way over to The Great Movie Ride.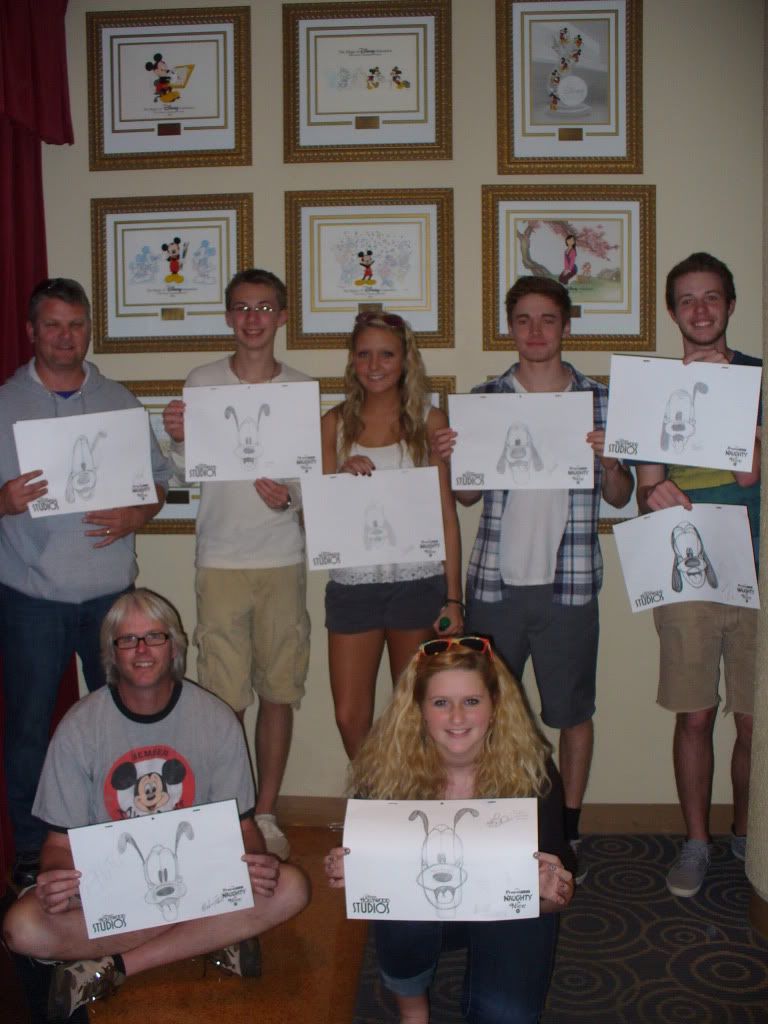 Hardly any line there, about a 10 minute wait or so.

We like this ride for its movie nostalgia.

Then it was off to cash in our RnR Fast Passes finally.

Again, no wait.

We moved right through the queue and directly into the pre-show and on to the loading area.

This ride is quick, so we were glad for the short wait, which was not the case in the stand-by line.

And as always it Rocked!

We considered jumping in the stand-by line to ride it again before we left DHS, but after a quick pow-wow decided against it.

It was getting pretty crowded all over DHS by now and so we made our way to exit and head for the next leg of our four park adventure…Epcot.