Pin It Now!
For most of us having sit-down or "Table-Service" dining options while on our WDW vacations have to be limited as they can be rather pricey. So our better choice will be a counter service meal while in the parks or at our resort. Through our many travels to WDW we have ate countless meals "on-the-go". Following are a few tips and suggestions for the best counter service options on property.
At Magic Kingdom: While there are many options at the Magic Kingdom for quick dining by far Columbia Harbor House is a stand-out. It is our fav-fav at MK, we love the food and atmosphere. For a late night dinner get a seat upstairs, you'll feel like you are all alone. I personally find that the kids Tuna Sandwich Meal to be the best value. It is a very filling sandwich, in the shape of a Mickey-head - a bonus for a little Disney magic, and includes a drink and choice of side (grapes, carrots or fries). I opt for the grapes and add a side of vegetable couscous. If I'm really hungry I have to have the Lobster Roll, it's delish. My husband loves both the New England Clam Chowder and Vegetarian Chili, but is bummed they no longer offer the soup in a bread bowl.
We also love Pinocchio's Village Haus. The food there is general burgers and such, but very good. And again, you can find a spot in one of there little dining "rooms' to have a moment to yourself. Another fun part of dining at PVH is that you can get a table next to the huge window that looks down into the loading area of 'It's A Small World' and wave to the passengers as they take off. One of our favorite things to get at PVH was always the Figaro Fries. French Fries covered with lettuce, tomato, bacon crumbles and ranch dressing (and cheese I think, but can't remember). Although they no longer have the Figaro Fries, you can "kinda" make them yourself, just get a small order of fries, side salad and add the toppings from the toppings bar.
For more hearty fare, Cosmic Rays Starlight-Cafe is great with lot's of choices. It's good for a large group or picky eaters with the bonus of "live" entertainment by the one-and-only Sunny Eclipse. Though it can get loud and very crowded during peak times we have enjoyed dining at Cosmic Ray's many times and always have been satisfied with our choices, including one late night family-style Thanksgiving dinner (turkey, dressing, mashed potatoes, and green beans).
And you can never go wrong with the old stand-by Casey's Corner for great hot dogs. Try the BBQ Dog with slaw, it's a monster hot dog piled high. This is a great option to grab for lunch before the afternoon parade. Find your spot and have someone in your party lay out a blanket and stay there while a few others run to Casey's to grab hot dogs to-go. Then enjoy them picnic style while you wait for the parade to begin.
Our newest favorite quick-serve option at MK are the waffle sandwiches at Sleepy Hallow. They offer a sweet and spicy chicken, ham and prosciutto with swiss cheese and the Nutella with fresh fruit. All looked great, but the Nutella with fresh fruit was the one we tried and it was awesome! A fresh, hot waffle made-to-order with lot's of Nutella (a rich, creamy chocolate-hazelnut spread) topped with strawberries, bananas, and blueberries. YUM!
At EPCOT: You just can't beat Sunshine Seasons, so many options to choose from and we have never been disappointed. I love the sushi and of course the strawberry shortcake. We always hit SS for breakfast on our early mornings at Epcot.
We also love the Lotus Blossom in the China Pavillion, though it can get beyond crowded during peak season. I have actually had to "fight" for a table before. But the pot-stickers were worth it! The rest of my family always enjoy the Orange Chicken with steamed rice.
The Electric Umbrella and Liberty Inn are old-standbys for basic burgers and such, with good options for kids. And for a great snack, stop by Kringla Bakeri Og Kafe in the Norway Pavilion for a schoolbread. It's a sweet pastry filled with a Bavarian cream and topped with sugary coconut.
At DHS: ABC Commissary is our go-to for Counter Service. They tend to have "international" meal options. They use to have a noodle-box and Cuban sandwich which were out of this world. Their menu changes a lot, so you may want to check on line for what is being offered at the moment, though it could be different by the time you get there. Their desserts are very good for a quick service.
But I always have to have a pretzel sandwich from Min and Bill's Dockside. It is a hot dog stuffed in a pretzel roll with Dijon mustard which is optional. It comes as a meal with chips and a drink, but you can opt out of the chips and drink.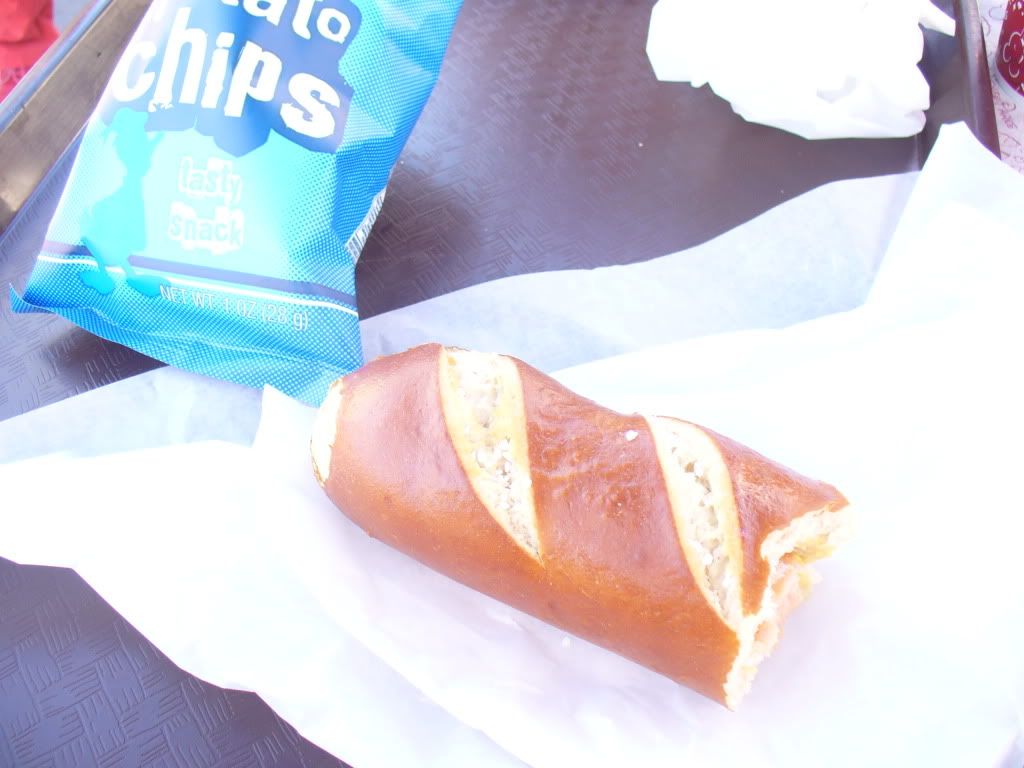 At Animal Kingdom: This would be our least favorite location for any type of dining. But of the limited offerings for counter service Pizzafari is best for families with small children and Yak and Yeti for more refined pallets (I use this term loosely).
At Resorts: As for the resorts, by far our favorite is Captain Cook's. I LOVE the Adult Grilled Cheese and the serve yourself Dole Pineapple soft-serve, I mean come on...SERVE YOURSELF!
The food courts at the various Value Resorts have varied options to choose from. While they are often loud and crowded, the food is surprisingly good. I would suggest Pop-Century as the best.
The Mara, Animal Kingdom Lodge's quick-serve, is a nice change of pace. We often take an afternoon trip over to this resort to enjoy dining at The Mara. It is a quiet tucked away spot for a quick-serve lunch or dinner that offers interesting and tasty choices.
In the end, it is pretty hard not to get a good meal anywhere on Disney property. So be open to trying new things, try to plan to eat at off times (a little before or after regular meal times) and have an open mind about how 'quick' - quick service can be and you will find some great food to enjoy on your trip.