Pin It Now!
Day 2 (Monday, December 19, 2011) Part 3:

We decided to leave DHS around 2pm and head on over to Epcot.

We were going to jump on the boat since we hardly ever do that and thought it would be a nice treat.

But the line for the boat was super long and we would have had to wait 2 through 2 boat loads to even get on.

So we took a few pictures outside of the DHS entrance in front of the Christmas tree and then planned to make our way over to Epcot via the walkway from DHS.

We have never walked over before and thought it would also be nice to just walk and enjoy the beautiful weather.

But, just as we rounded the corner to the walkway, it just happened that a bus to Epcot pulled up…so…we all took one look at each other and hopped on.

It was a beautiful day with great weather, but was getting a little warm and we knew we'd be doing a lot of walking at Epcot.

So opting to ride in the air conditioned bus was a much better option.

We still had a long day and night ahead of us, 13 hours to go at this time.
The bus ride over to Epcot was nice, the bus was not crowded at all, almost empty actually.

Which gave us hope that the crowds at Epcot wouldn't be too bad.

In no time we were arriving at the bus drop off.
We entered the park and made our way to Spaceship Earth.

They had the long line ropes out all around the ride, but we found that the line was not bad at all, about a 15 minute wait to the loading area.

The line moved all the way through.

We all like this ride and the recent changes to it as well.

We did have a small snafu when the ride stopped twice on us.

It took them quite a bit to get it running again both times.

But that just gave us time to take a little nap and save our energy for the long day ahead.

This also threw a wrench in our time plan, so we decided to cut out a few rides to save time.
When we exited SE we headed into World Showcase.

But we made a quick stop in Club Cool for some free refreshments.

We just love to stop in there, it gave us a little pick me up and we had some laughs trying the flavors and remembering the time we tricked 2 of the kids with their first try of Beverly.

No one tried it this time, we know better now.
We hit the Mexico Pavilion first, my favorite.

I just love the atmosphere inside the ride.

I remember the first time I went in, it was on a family trip when I was 10.

It was amazing then and still is now.

We toyed with the idea of eating at the restaurant, but we weren't all in the mood for Mexican and didn't really want to spend the time at a sit down meal, so we moved on.

Which was a bummer for me, it is one of my most favorite places to eat at Epcot.
We continued making our way around World Showcase.

Since it had taken longer on SE with the ride stops, we had decided to just spend our time wondering around the WS pavilions.

Our next stop was the China pavilion.

We went in and looked around the Tomb Warriors display and looked in the store.

This was very interesting as one of our teenagers is studying Mandarin in high school and had a lot to add.

We watched the acrobats for a bit and then moved on.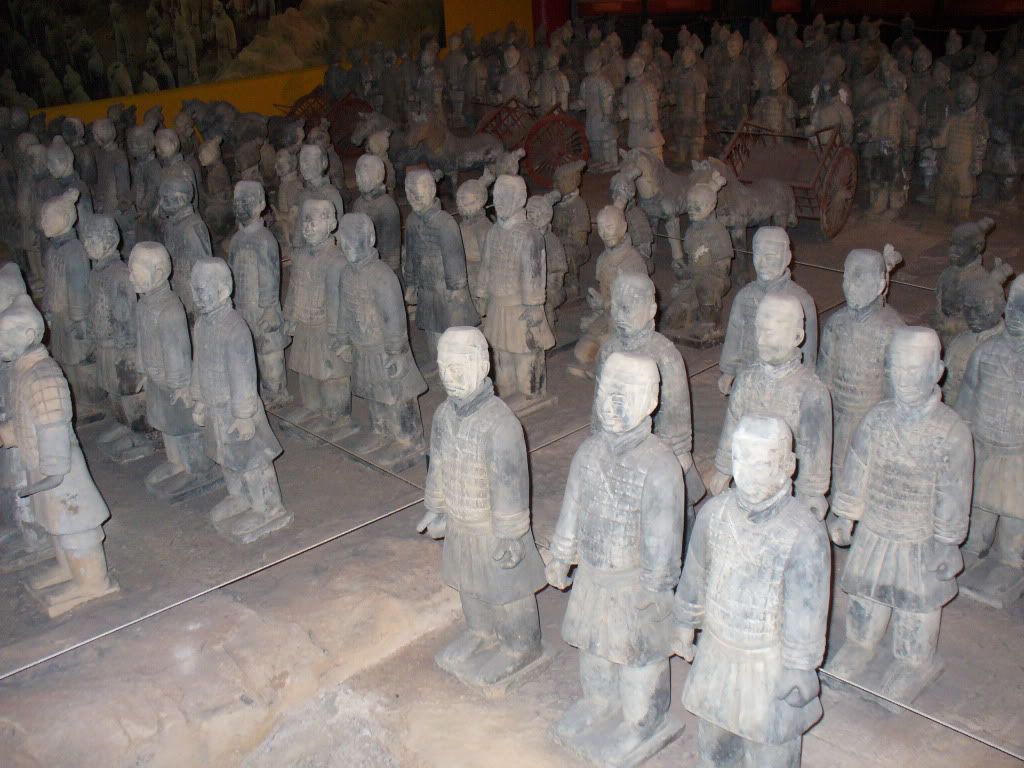 We stopped in Germany and Italy and were amazed at the stand-by line for the Candlelight Processional.

It was all the way to Italy and nearly to Germany.

We have only ever done the CP with the dining package which has the reserved seating.

We thought that line was long, but this line was crazy and you're not even guaranteed a seat.

It was a little after 3pm, so this line would be for the 5pm show.

They still had a long time to wait.

But the celebrity narrator for that night was Trace Atkins, who I think would have been great to hear.


Unfortunately most of my pics from Epcot are on my other camera which I haven't had time to go through yet. I will add them in later.
We stopped in the Japan pavilion and listened to the drum performers and looked around.

Some of us were trying to pace ourselves and save up for the big night at Magic Kingdom so we rested by the quick serve restaurant while the rest did some looking.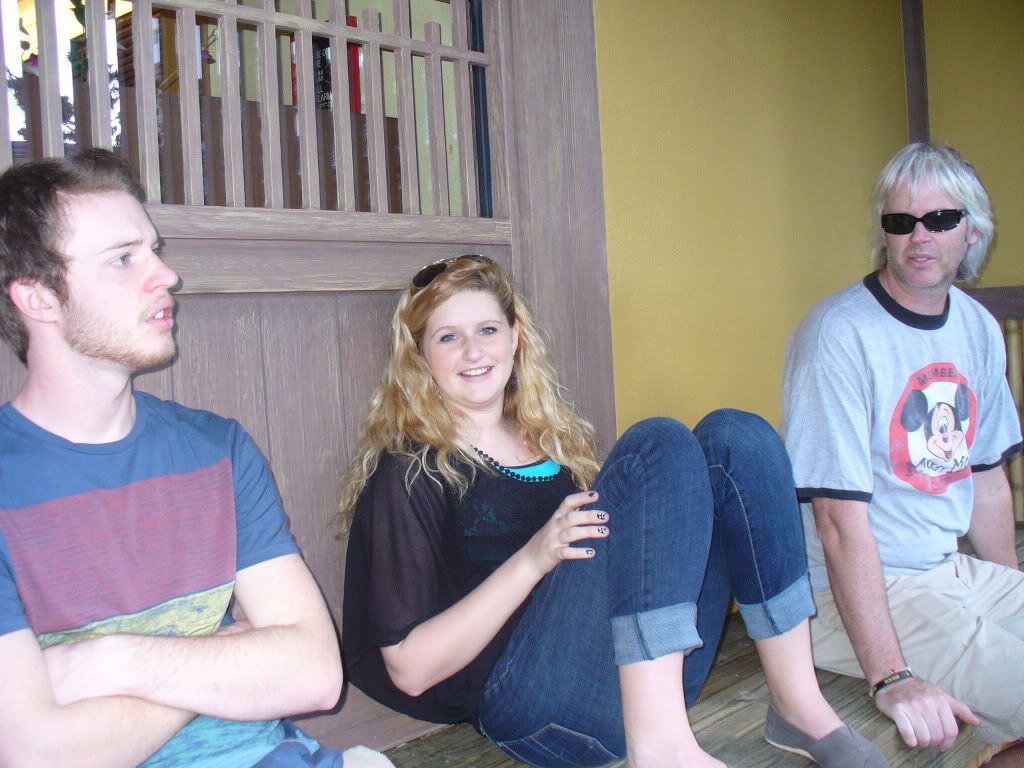 At this point we broke up into groups.

A few of us headed back to the resort rooms for a short rest and to change clothes for the evening.

A few continued around WS to visit the France, Great Brittan and Canada.

And a couple of us walked back around the way we had come through WS to hit Mexico again for a souvenir and Norway for some schoolbread (YUM!, that would be).
Those of us still at Epcot met back up at the monorail and headed over to Magic Kingdom.

The sun was just beginning to go down as our monorail rounded the curve to see the MK entrance.

It was all lit up and looked SO Magical!

How could I have even thought of missing out on this…my hubby knows what's best.

Dash the plans…remind me I said that later.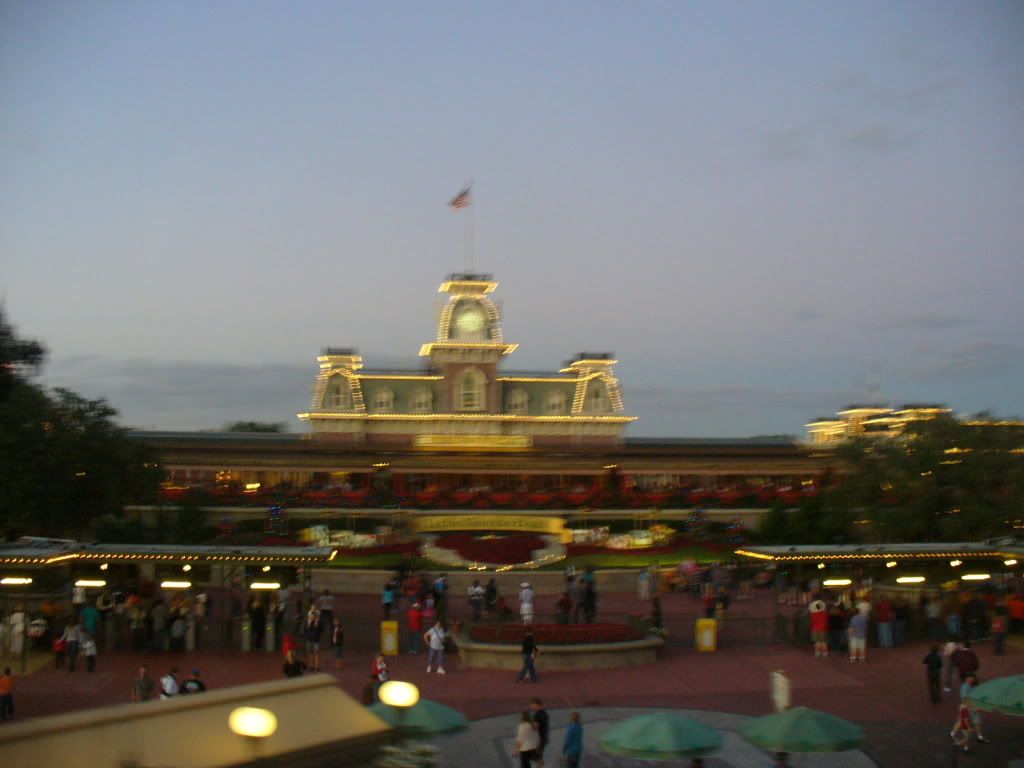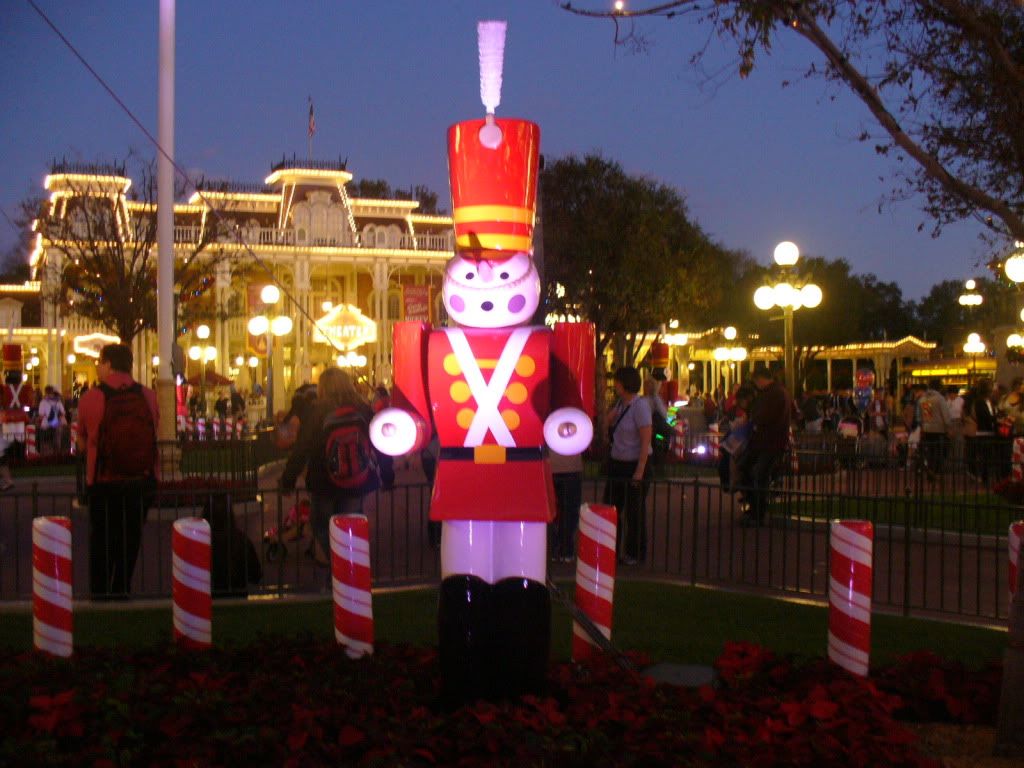 We made our way into the Magic Kingdom and took a few moments to marvel in ALL the MAGIC.

Then it was on to business…we were starving!

So again we broke up in smaller groups.

My son, Spencer, headed to Casey's for hot dogs with Dale (the other Disney Dad-my best friend's husband) and Blake (the other Disney son).

While my husband Mark, daughter Scarlet and myself made our way to Columbia Harbor House.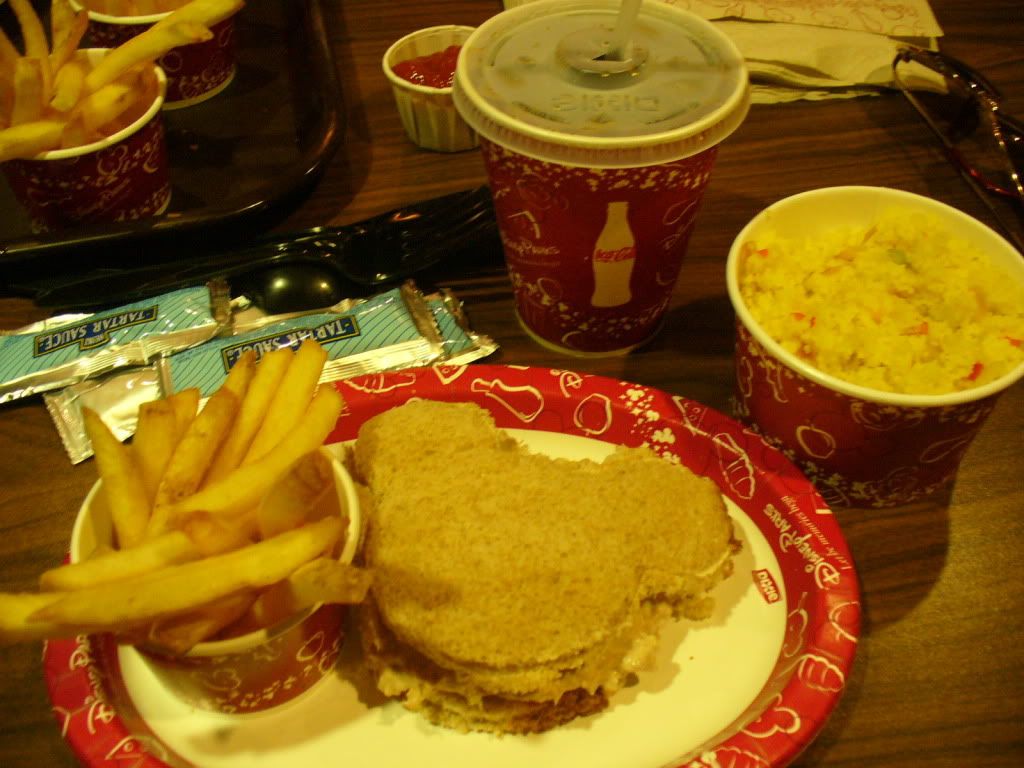 My husband and I both got the kids tuna sandwich. It was more than enough food and very good. I gave my fries to Scarlet and had a side of vegetable couscous instead. Since I didn't get to have my Moroccan food at Epcot.
When we arrived at CHH, Mark went to place our orders and Scarlet and I went upstairs to find a nice secluded area for dinner.

This is one of the main reasons CHH is my very favorite quick serve at MK.

The nice quiet areas upstairs!

If you catch it just right, you can get an area all to yourself and feel like you are in your own home having dinner.

If your home is a sea shanty in New England, mine is not, but I'll pretend.
Scarlet and I found a perfect spot in the little area that juts out at the very front of the upstairs.

From outside it looks like an overhead walkway between Liberty Square and Fantasyland.

We were the only ones in the room, and had a quiet area all to ourselves to enjoy our dinner and still be able to see out the windows at all the hustle and bustle below.

Mark found us up stairs and joined us with the food.

It was as always, delicious.

We took our time and had a nice dinner together.
When we were done we checked in with the guys down at Casey's, figuring they were also done with dinner, but that was not the case.

It was a mad house down on Main Street.

They had just gotten their food and were eating, on a trash can because there were no tables anywhere.

We had walked all the way back to CHH, waited in line, got our food, and ate (leisurely mind you) and walked back down to Casey's, and they were just beginning to eat…CRAZY!
But they said their hot dogs were delicious, again as always.

Dale had the BBQ w/ slaw hot dog and it looked awesome, and he said it tasted awesome too.

I had to take a picture of them eating on top of the trash can, it was too funny.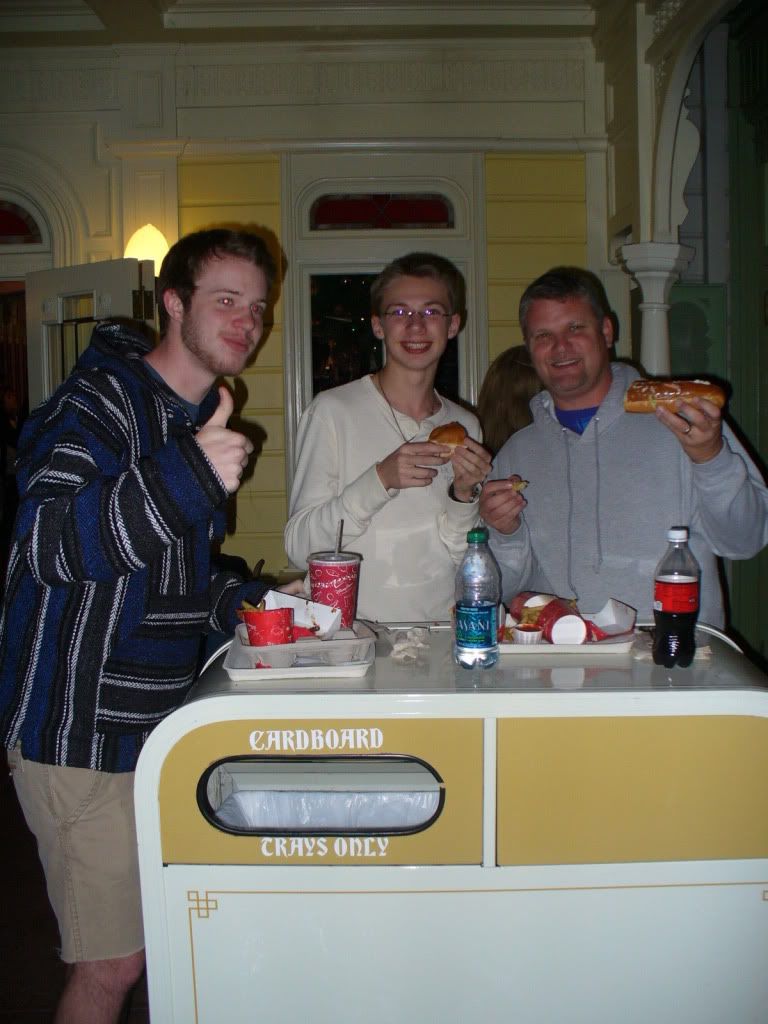 We hung out with them and enjoyed the piano player for a bit.

It began to "snow" (magical Disney Main Street snow) and made the moment that much more fun.

We got word from the rest of our group that they had made it into MK and were at Cosmic Rays getting dinner.

We let them know that we were heading to the Jungle Boat Cruise and would meet them at the Pirates of the Caribbean after.
We made our way to JBC and were on a boat in about 15 minutes.

We had a small problem in line with a man who had had too much to drink and was being belligerent with everyone he passed in line.

Thought my husband was going to lose his Disney magic several times.

But finally we got in a boat and had a great ride.

No matter how many times we ride this or how many times we hear those same old jokes, it is always fun.

And I personally love the ride more at night than in the day.
As we excited the ride we checked in with the rest of our party who were already at PotC waiting for us.
To be continued...